Regular price
Sale price
$30.00 USD
Unit price
per
Sale
Sold out
Kit includes everything you need to make a customized tincture; 2oz Tincture bottle, mason jar, labels, wax paper, herbs. Instructions including folk method and quick low heat method. 

Choose up to 3 herbs from the list below.  Once your order is placed please email me at kristinlafine@wildrootsherbalcare.com with your order number and three herbs of choice. 
Angelica Root
Astragalus Root
Ashwagandaha Root
Ashwagandha Root Powder
Bacopa/Brahmi Leaf
Basil Leaf
Bayberry Root
Black Cohosh
Burdock Root
Calendula Petals
California Poppy Leaf and Flower
Catnip Leaf
Chaga Mushroom
Chamomile Flower
Chasteberry
Chicory Root
Chickweed Leaf
Cinnamon Chips
Corn Silk
Cramp Bark Root
Dandelion Leaf
Dandelion Root
Dong Quai Root
Echinacea Root
Elderberry
Elder Flower
Elecampane Root
Eleuthero Root
Fennel Seed
Fenugreek
Feverfew
Ginger Root
Ginkgo Biloba Leaf
Goji Berries
Golden Rod
Goldenseal Root - Additional $5 charge
Gotu Kola
Hawthorne Berry
Hawthorne Leaf and Flower
Hibiscus Flowers
Hops
Horehound
Horseradish Root Powder
Hyssop
Kava Root
Lady's Mantle
Lavender Flower
Lemon Balm
Licorice Root
Lobelia
Lungwort
Marshmallow Root
Meadowsweet
Milk Thistel Powder
Motherwort
Mullein Leaf
Nettle Leaf
Oat Tops
Orange Peel
Oregon Grape Root
Passion Flower
Peppermint Leaf
Plantain Leaf
Red Raspberry Leaf
Red Clover
Reishi Mushroom
Rosehips
Rose Petals
Rosemary
Sarsaparilla Root
Sarsaparilla Root Powder
Schisandra Berry
Sheep Sorrel
Skullcap Leaf
Slippery Elm Bark
St. Jons Wort Leaf
Sweet Annie (Sweet Wormwood)
Thyme
Tulsi (Holy Basil) Leaf
Turkey Rhubarb
Turmeric Root
Uva Ursi
Valerian Root
Vervain (Blue)
Wild Lettuce
Willow Bark
Wormwood
Yarrow Flower
Yellow Dock Root

Care Instructions

Keep herbs out of sun. Store in pantry or kitchen cabinet.
Share
View full details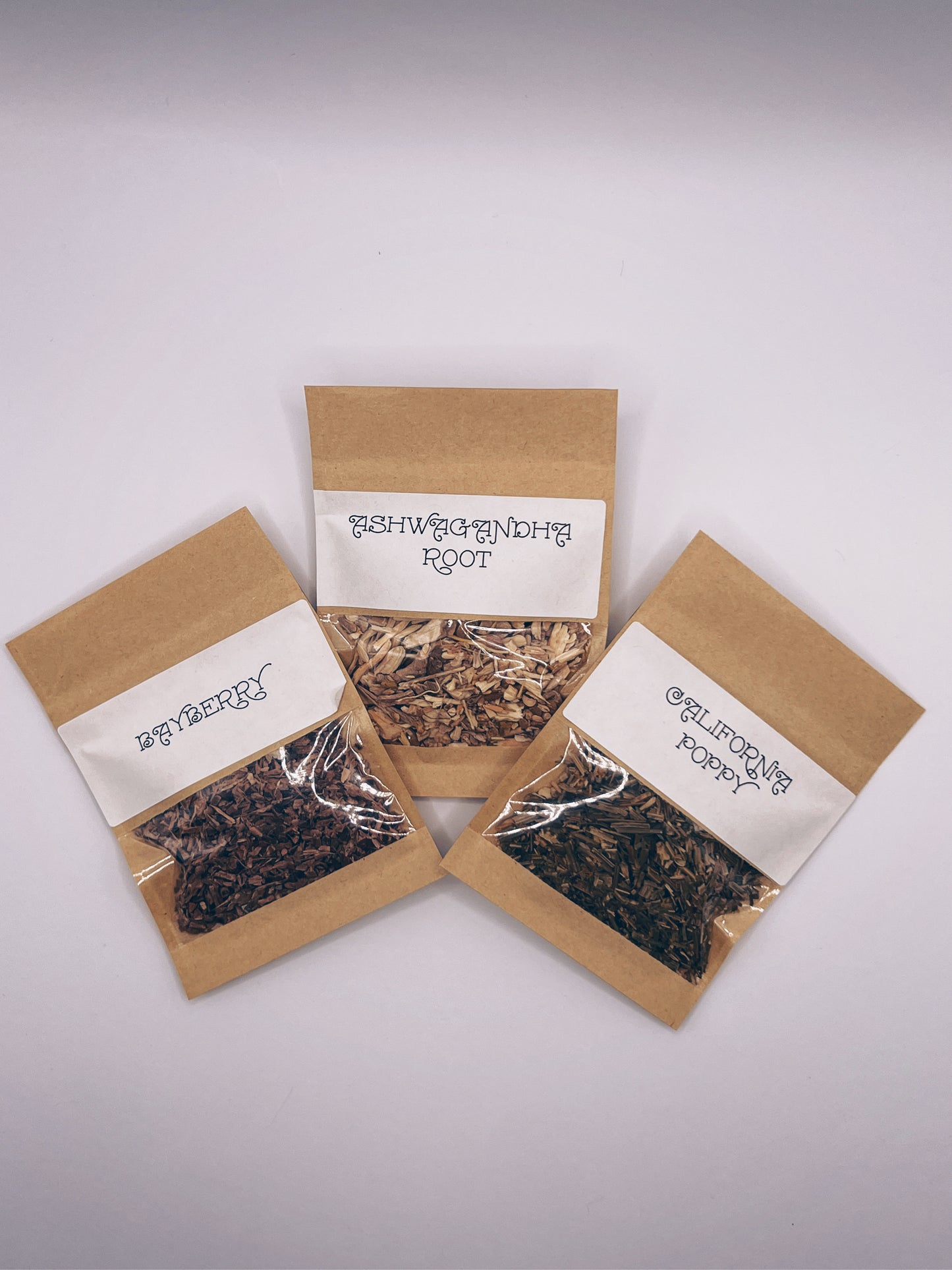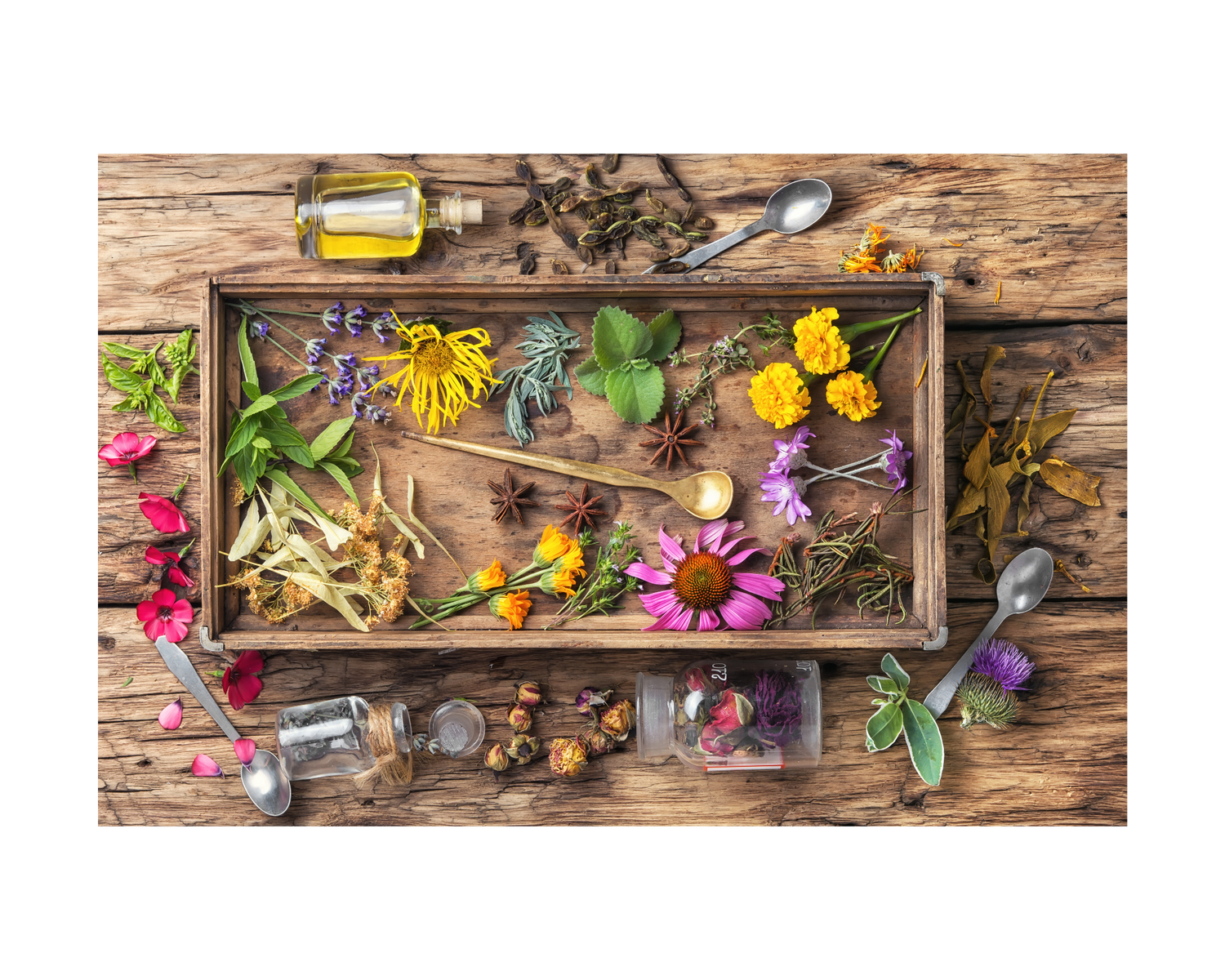 Disclaimer
The information provided has not been evaluated by the Food and Drug Administration. Our products are not intended to treat, diagnose, or cure a disease. For educational purposes only.
We recommend that you consult with a qualified healthcare practitioner before using herbal products, particularly if you are pregnant, nursing, or on any medications.